SIZES
Cardinal offer a large number of slate widths and lengths, as found on a stone roof, to reduce visible repeats. We currently make 12 lengths from 8.5 to 20 inches long (190 to 500mm), each with a variety of widths. In total, there are over 130 different moulds used.
Below are a variation from the largest to the smallest sizes.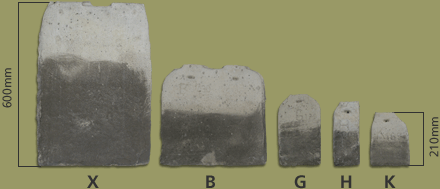 WEIGHTS
100kg per square metre (approx).
For technical details please consult our fixing specification, available on request.